Photo story contributed by Elizabeth Bocaletti, Carolyn Boyce, Glendy De Leon, Rudo Kashiri, Ana Maria Us and Goldy Mazia for Save the Children. All photos courtesy of Save the Children.
The infant mortality rate (IMR) in Guatemala remains high at 21 per 1,000 live births. Preterm birth, intrapartum-related complications (birth asphyxia or lack of breathing at birth), infections and birth defects cause most neonatal deaths. Maternal and child health is significantly worse in the Western Highlands. The regions of Huehuetenango, Totonicapán and Quiché with a predominantly indigenous Mayan population have an IMR that is significantly higher than the national average.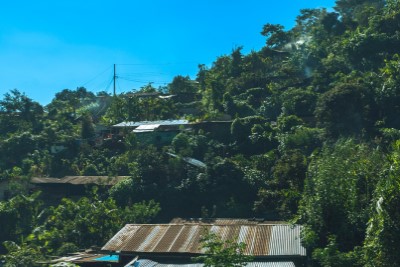 Quiché, for instance, has the lowest rate of deliveries attended by qualified personnel (doctor or nurse) due to a combination of cultural norms, shortage of health staff and the remote geography and terrain. Most deliveries occur at home, assisted by traditional birth attendants (TBAs), who provide essential services through household visits. Their efforts are supported by the Ministry of Public Health and Social Welfare; however they are not part of the fomal public health system and in most cases, TBAs lack the appropriate training and tools to detect and provide immediate care to newborns.
The good news is that basic low-cost interventions such as Save the Children's Improving Newborn Survival Project (INSP) have the potential to reduce the number of neonatal deaths and stillbirths, and many of these interventions can be taken to scale. Johnson & Johnson Foundation has partnered with Save the Children on INSP in Quiché to enhance the capabilities of frontline health workers, including auxiliary nurses and TBAs, and strengthen the provision and quality of newborn and maternal care. As a result of the INSP intervention, they have increased their technical skills in newborn health care and are better able to:
identify danger signs exhibited by pregnant women
provide initial management of obstetric complications and care for babies
refer pregnant women and newborns for more advanced care as needed
identify preterm and low birth weight (LBW) babies
Both auxiliary nurses and TBAs are trained to refer clients to the hospital for more advanced newborn and maternal care, including for management of preterm/LBW newborns, birth asphyxia and neonatal sepsis. To date, the project has supported more than 4,400 pregnant women and 3,500 newborns in the region.
We followed two individuals in Quiché who participated in the program and have strengthened their skills and ability to care for pregnant women and newborns—María Isabel, an auxiliary nurse who provides care at a health post in Rio Azul and also serves as a community health worker, and Maria Lopez de la Cruz, a TBA who provides care for mothers and newborns at the home.
Maria Isabel
Maria Isabel meets the first pregnant woman of the day who arrives for prenatal services. During the visit, María Isabel takes the woman's blood pressure, temperature and weight; sends her for lab work; and records all data in a Health Post antenatal care register so that providers can detect, treat and refer mothers, which helps to prevent health complications in mothers and babies. Data about the delivery, the baby's growth and development and danger signs are also recorded. This information is then used to assess the provision of health services, maternal and newborn morbidity and mortality, effectiveness of the referral system, and quality of care coverage. Because patients are illiterate, they acknowledge the receipt of services by signing with their fingerprints. During the COVID-19 pandemic, the personal protective equipment (PPE) donated by Johnson & Johnson Foundation was key to ensuring safe care for women and their babies, as well as the community health workers.
When Maria is not at the health post, she is out in the community conducting home visits. She provides triage services and looks for any issues that would require the mother to be referred to facility-based care. She examines clients to ensure mother and baby are healthy. Maria Isabel has been trained to use portable medical devices to measure the baby's growth and hear the baby's heartbeat. In her backpack, she carries a thermometer, tape measure, blood pressure cuff, stethoscope, Doppler, gel, gauze, alcohol and a newborn scale, in addition to counseling and educational materials.
Based on her examination, Maria Isabel instructs the pregnant woman to take appropriate action based on early recognition of dangers signs and to seek care at a facility, if needed, Maria also documents the results of all exams in her register and seeks verification and signature from the client via thumbprint. At the end of her workday, Maria Isabel knows that she has been able to prevent complications and provide relevant education, leading to healthier outcomes for mother and child.
Maria López de la Cruz
TBAs like Maria López de la Cruz are a crucial part of the health system in Guatemala. They are trusted by the community and therefore are in a unique position to identify and refer LBW newborns and their mothers to established community referral networks. Maria López comes to her clients prepared, thanks to the availability of INSP training and Ministry of Health endorsed communication materials and screening tools.
Under the INSP project, TBAs have been trained to help with postpartum care and look for possible danger signs among babies and mothers that would require referral to a facility-based care. TBAs can also support exclusive breastfeeding for babies after discharge from a facility, where possible. They also help the mother provide essential care for the baby. Maria Lopez de la Cruz is able to counsel new mothers using project informational materials.
Community-based newborn health interventions such as INSP are enhancing the skills of frontline healthcare workers like Maria Lopez de la Cruz and Maria Isabel who are able to provide higher-quality care to pregnant and postpartum women, helping more mothers and babies in remote communities like Quiché survive and thrive.